![if !ppt]> <![endif]>
<![if !ppt]><![endif]> <![if !vml]>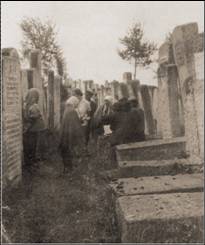 <![endif]>

Proffessional mourners (klogerins) in the cemetery in Brody.
During the month of Elul, it was customary to visit the graves


 

of relatives and of very pious Jews to pray for eternal rest for


 

the deceased and to beg them to intervene with G-d on behalf
of the living. Professional mourners were sometimes hired to


 

improvise prayers and entreaties in Yiddish; they wailed and


 

fell upon the graves, in a show of mourning.