![if !ppt]> <![endif]>
<![if !ppt]><![endif]> <![if !vml]>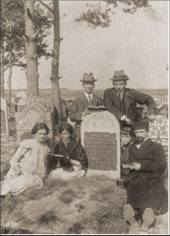 <![endif]>

Family gathered at a tombstone in the cemetery in
Wloszczowa. The tombstone bears the inscription:
"A righteous man who led a life of good deeds, who lived


 

from the fruits of his labor all his years, who died young,


 

who was a giver of charity, the worthy one, Yisroel Yitskhok,
son of Shmuel Zindl, may his memory be blessed...May his


 

soul be tied in the knot of life."