Finally, after several claims, I decided to include my biography in the site you are visiting, pages which I am constantly improving since 1997, when I began to build the site.
My name is Jorge Spunberg, I was born on September 22nd, 1942 in Buenos Aires (Argentine). I have European roots, my father David Spunberg (1901-1982) was born in Berdichev, at those times in the Russian Empire, nowadays in Ukraine; my mother Malka Biderman (1910-2001), was born in Kielce (Poland).
| | | |
| --- | --- | --- |
| | | |
| Jorge (one year old) | My mother | My father |
Fortunately, they emigrated to Argentine many years before WWII, my father arrived at Buenos Aires in 1923, where some relatives lived since the end of the XIXth century, one year later arrived my grandparents with my uncle. My father began to study the Spanish language and with huge dedication in 1925 inscribed at the University (faculty of Medicine), concluding his studies and obtaining his degree as a physician in 1931. My mother arrived at Buenos Aires in 1911, being still a small baby, with her parents and some brothers; she completed the school and the gymnasium, but as was usual at those times, although she wanted to continue her studies at the University, her widowed mother preferred for her a "good husband" than a "diploma".
The arranged "good husband" delayed to appear. Finally he came up, and at the end of 1938, after ten months of relationship the wedding was formalized. I have an older sister, Lidia Spunberg born in 1939, dentist, married to Julio Bastanski, they have an only daughter called Alicia, all of them living in Argentine.
But still, I slightly spoke about me. Therefore, according to my family I appeared in the world red and hairless, with 4,1 Kg after an exhaustive fight through a normal parturition.
| | | |
| --- | --- | --- |
| | | |
| My parents with my sister and me | Jorge (12 years old) | Jorge (18 (years old) |
We lived in a Jewish district in Buenos Aires, called "Eleven" (Once) , in a big apartment of an old building, where my father had his cabinet, and my paternal grandparents had their own rooms.
My childhood passed quietly, my father was quite severe and exigent, my mother, instead, was kind and affectionate. I began to study when I was 6 years old in an official school called "Domingo F. Sarmiento", afterwards I was moved to another school called "Juan M. de Pueyrredon", where I concluded my primary studies. The secondary studies I completed in another school called "Bartolome Mitre". I have been a good student during the entire career, including the superior studies. In 1960 I began my studies at the University (Faculty of Engineering), choosing the Electromechanical field. I obtained my degree in 1967, in the middle of the career I lost one year serving the army.
When I was eigh years old, my father began to teach me the Russian language. Along a large period, up to I was sixteen, we used to read together the classical Russian literature including: Pushkin, Tolstoy, Turguenyev, Tchekhov, Krylov, Lermontov, Gorki, etc., etc. I am very grateful now for this knowledge, which proved to be extremely useful to me along my life, helping me to have the opportunity of researching my roots and discovering unknown relatives around the world. When I was nine years old I began to study the English language, at the beginning with a professor at home, an Irish patient of my father; afterwards, in an English Institute. At school I also learnt Latin and French, but as I didn't practice these languages I forgot almost everything.
My social life was quite limited, restricted to familiar events and few friends. My father tried to avoid risks for his family, overprotecting us and controling rigorously all our activities. Fortunately, when I was 16 years old, I became member of a Jewish club, this step helped me to open my mind and some years after, became the leader of my group, initially as an amateur, afterwards, engaged as a remunerated professional, coordinating the Youth Department. This one was my first official job, although, since I was sixteen years I had some pupils at home, teaching mathematics, physics and chemistry. These earnings helped me along my youth, to reinforce the slender help I received from my father.
I loved reading books and magazines, used going to the movies and was fond of sports, specially soccer (the favorite game in Argentine and Brazil) and swimming.
Once I obtained my diploma, I got a job in my professional area in the Argentine Railways, coordinating the Department of Tariffs. One year afterwards (1969), I moved to the Philips Group in Buenos Aires, where I worked along two years, up to my transference in February/1973 to Philips of Brazil. As the proverb says: "nobody is a prophet in his own territory". After my change of residence to Brazil, I worked in the Philips organization along two years and since 1975, I began to work independently for myself.
From 1975 up to 1992 I had an industry which manufactured all the line of machines to produce and split polyurethane foams. As this market saturated, in 1992, I began to manufacture semi-industrial machines which produce disposable diapers and feminine towels. In 2006, I opened a complementary new "front", and began to import from China, Japan, and South Korea computerized embroidery machines and laser machines, as well as, spare parts and accessories for these equipments.
| | | |
| --- | --- | --- |
| | | |
| My daughter Mariana | My daughter Carolina | My son Igor |
In 1968, still in Buenos Aires, I married (for the first time) a Jewish Argentine lady called Silvia Kleiman, nine months later, in Setember/1969, my first daughter Mariana (nowadays settled in Toronto/Canada) was born. We had a second daughter Carolina ten years later, born in September/1979 (nowadays settled in Haifa/Israel). In 1984 I divorced and went to live alone. I have also a son named Igor, born in July/1985, living in Sao Paulo/Brazil.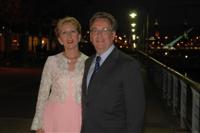 Diana and me
Finally, I found "my second dear half", On April/1992, returning from Buenos Aires, I met in the airport Diana Sztraicher, and since that time we are together. Diana, created the name of this site, "The Berdichev Revival", and permanently stimulated me to keep on developing this endless work.
With 66 years on my back, I am very grateful to my destiny. Of course, frustrations and disappointments are mixed with moments of joy and happiness, but this is the rule of life. Along these two last decades, a deep revolution forced most of us to change old habits. The fantastical technological advances in all the areas, run faster than the ability to adapt ourselves to the modern times. This impressive "avalanche", sometimes arise nostalgic feelings of old times, anyway, our conscience or our grandsons quickly bring us back to the real world.
I couldn't finish this resume, without remarking and reverencing my young beloved teacher, Monica Gomes, who step by step, patiently oriented my efforts in the development of each page of the site, improving and suggesting new ideas and correcting my mistakes.
October/2008
---
Continuation

Time flies with incredible velocity, now I am 71 years old, still in full activity, with constant challenges and permanent disposition to overcome the daily difficulties. Meanwhile, my physician discovered through the exams that I am suffering diabetes (type 1), consequently, pills, insulin and trecking were incorporated in my routine.
The good news are my grandchildren, in São Paulo, Rafael (7 years) and Sofia (5 years) from Shirly (a "lending without return" of Diana's daughter); and far, unfortunately far away, Anis (4 years) and Mila (1 year) from my daughter Carolina living in Yokneam (Israel).
| | |
| --- | --- |
| | |
| Rafael and Sofía | Anis and Mila |
Grandchildren, undoubtedly, enlighten and rejoice our lives, arousing an atmosphere of well being and happiness.
June 2014