Icon "Mother of God of Berdichev": tinsel, tempera, frame of
metal and the author's trade-mark "Nikolay Balmasov" 310 x 270 mm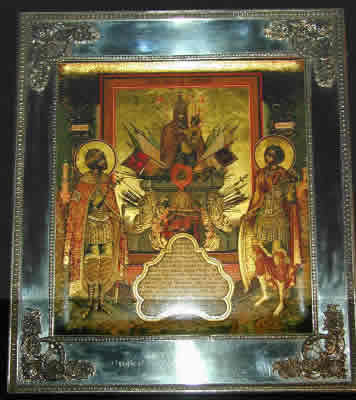 The works, manufactured in Balmasov Jeweller's workshop demonstrate all variety and riches of Russian national traditions in Art of jewellery. The artists and foremans working in the workshop are continuaters of glory of famous jewellery firms : Ovchinnikov, Grachev, Faberge, Khlebnikov. The articles of workshop differ among others by high level of workmanship and original design. The most interesting articles are silver ones decorated with enamel, which revive an inheritance of Russian school of painting on enamel.
The artists of workshop indeed virtuosoes: the enamel portraits and icons, painted on enamel, extremely complicated combination of enamel and filigree, painted enamel, and Ancient Art of enamel – grisail.
Nikolai Balmasov managed to collect group of artists, oriented on manufacturing of highly artistic, exclusive products. In spite of the fact that they work in russian stylistic, the products are not skilful replicas . It is also modern understanding and creative conception of each author . That is why all the articles made in "Balmasov jewellery' workshop" became interesting for both private customers and museum collections.