Terror in Berdichev, 1941
by M.T.Simkovitz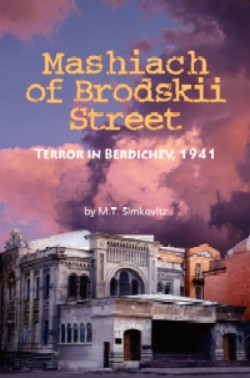 Historical fiction novel about the Holocaust in the town of Berdichev, Ukraine during 1941-1942.

The story centers around a the town's prominent Chasidic family, and a young German-Jewish soldier. They individually experience the wrenching events of Hitler's sudden attack and Russian troop retaliations. Interspersed with the main themes of survival, sacrifice and spiritual restoration are short personal histories of victims of the German invasion. This novel gives a fascinating look at how one town dealt with a terrifying time in history.

The author has written this book as a tribute to the victims of the mass murder of Berdichev's Jews, Gypsies and the other unfortunates who died in Berdichev at the hands of enemies.

Five appendices provide thumbnail descriptions of relevant political movements and their leaders, as well as a history of the area, maps, and an extensive Holocaust timeline.