(Courtesy: Yad Vashem)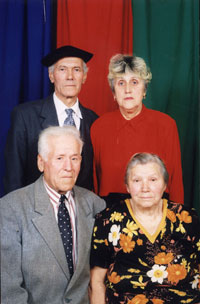 Sitting: Nikolay Goncharenko and Emilia Gutovskaya. Standing: Isaak and Galina Bakmayev
Yanishevskaya, Stanislava -Gutovski, Nikolay-Gutovskaya, Emilia-Goncharenko, Melania
Goncharenko, Nikolay

On the eve of the Germans' capture of the city on July 7, 1941, Stanislava Yanishevskaya lived in Berdichev (Zhitomir District), with her husband, Nikolay Gutovksi, and their 16-year-old daughter, Emilia. At the end of July, Yanishevskaya sheltered a Jewish woman, Lea Bakmayev (née Korovinets), and her children in her home. Yanishevskaya had known Bakmayev and her Tatar husband, Usman, for many years, as good friends and neighbors. On August 12, Bakmayev, assisted by Stanislava and Emilia, gave birth to her fifth child, Pyotr. The birth took place in the cellar of the rescuers' home in highly difficult conditions. In the meantime, tragic events were occurring in the city: the Jews were forced into the ghetto, their property was plundered and there were instances of abuse and murder. During the killing operation perpetrated on September 5, Bakmayev's brothers and other family members were murdered. Bakmayev was aware that she and her children had to stay in hiding, even if this constituted a heavy burden for Yanishevskaya and her family, who were unemployed and barely supported themselves selling produce from their garden. As the winter of 1941-1942 loomed, Usman found a new refuge in the same neighborhood for Lea and her smaller children, Galina and Pyotr – with Melania Goncharenko, a widow, and her son, Nikolay. Lea's three sons – Grigori, Galei and Isaak, all adolescents – remained with Yanishevskaya. The Goncharenko family also lived a hand-to-mouth existence during the war, and had no means to feed extra people. Nikolay Goncharenko therefore made weekly rounds of nearby villages, bartering items of family property for food. Goncharenko was accompanied by Usman Bakmayev, who continued to provide for his family in their places of hiding. The constant tension left Bakmayev unable to nurse the baby, so the rescuers did their best to find fresh milk for him. Thanks to the devotion and self-sacrifice of the two Ukrainian families, Bakmayev and her children survived to see liberation on January 5, 1944.

On June 5, 2000, Yad Vashem recognized Stanislava Yanishevskaya, her husband, Nikolay Gutovski, their daughter, Emilia Gutovskaya, and Melania Goncharenko and her son, Nikolay, as Righteous Among the Nations.

Zakrevskaya, Yekaterina
Yekaterina Zakrevskaya lived in Berdichev (Zhitomir District), with her only son, 15-year-old Vitaly. Her home was located at the edge of the city near the cemetery, and was surrounded by fruit trees. After the occupation of the city on July 7, 1941, Zakrevskaya met Fanya Shapiro, her friend from before the war, who was interned in the city's ghetto that had been established in late July. At the beginning of the occupation, Shapiro's mother and her husband had been murdered in the first two killing operations against the Jews of Berdichev. Realizing the danger to their lives, Zakrevskaya offered refuge for Shapiro and her 18-year-old daughter, Esfir. In October, searches and executions of Jews were carried out in the city. Shapiro feared that they would find her outside the ghetto, and would mistreat her and her daughter. After hiding for a month with Zakrevskaya, Shapiro decided to leave Berdichev and go to the town of Pikov, where she had heard that the Jews in the ghetto were not being harmed. Zakrevskaya did not know what had happened to them until one evening when Esfir returned alone. She told Zakrevskaya that her mother had been killed during the murder operation in Pikov on April 30, 1942. From that day until the Soviet liberation of the city, the girl remained in her rescuer's home. She was hidden in the attic, the basement and the grove behind the house, and even in the cemetery. Until liberation on January 5, 1944, nobody saw Esfir apart from a few of Zakrevskaya's relatives. She treated Esfir like her own daughter and consoled her broken spirit following the loss of her parents. After the liberation of Berdichev, Zakrevskaya's son fell in battle in Belarus. Esfir took care of Zakrevskaya until she recovered from her loss. The two remained in close contact until Zakrevskaya died in 1954.

On February 13, 2000, Yad Vashem recognized Yekaterina Zakrevskaya as Righteous Among the Nations.