(Courtesy: Osias Wurman)
On January 27th is commemorated the Day of Remembrance for the Victims of the Holocaust, established by the UN.
This date reveres all segments of society who have suffered persecution and massacre by the Nazi regime and its minions,
Blacks, Gypsies, homosexuals, disabled people, Jehovah's Witnesses, Communists and political enemies of the Axis.
For us Jews, who were reduced from 18 million to 12 million souls, the proportional loss was more dramatic.
Visiting the museum "Memorial of the Shoah", in Paris, in the land of "Liberty, Equality, Fraternity", we may discover at what point could be achieved the human degradation caused by the racist Nazi amorality, represented by the collaborationist Vichy.

The photo above, exhibited in this museum is a gallery of French-Jewish victims, which totalized more than 70,000 deportees, including about 10 000 children.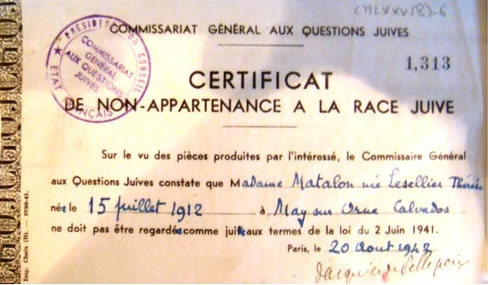 To ensure that non-Jews would be spared from persecution by the Nazis and French collaborators, were issued "certificates of not belonging to the Jewish race," as pictured above.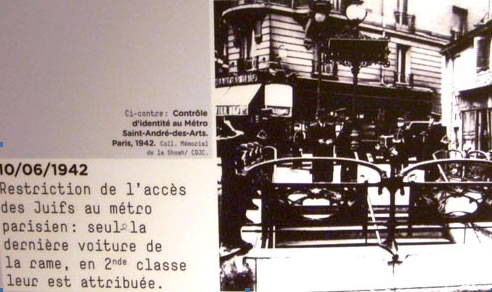 The public humiliation to which Jews were subjected in the "intellectual capital of Europe", arrived at the Metro in Paris in June 1942 where the Jews could only travel in the last car 2nd class. In the picture above, policemen are controlling passenger's identity in front of the station's stairs of Saint-Andre-des-Arts Metro.
You see readers, once again remind that Jews were massacred by racial hatred, in cooperation with the indifference of most part of the world.
HOLOCAUST NEVER AGAIN!

NEITHER THE JEWS NOR ANY OTHER ETHNICITY OR RELIGION!