The patriarch of the Borman family was Jacob. Jacob was a sugar beet farmer. He kept the land in the name of a good non-Jewish Russian friend because Jews were not allowed to own land in the 19th century. When Jacob and his friend died, the Russian son refused to honor the agreement and they lost their land.
Jacob was married to Raisel (Yiddish for Rose)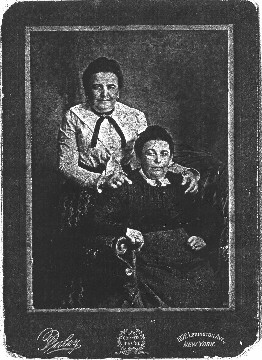 , Raisel's sister had only one child, a gifted violinist, Sascha. Raisel's son George left the family to live with Sasha Saslovski. When the sister and the son left Berdichev, they settled in New York City where Sasha played with the New York Symphony from 1897 through 1919.

Jacob and Raisel's children were Benjamin, the eldest; George, Harry and Morris; Mary, Pearl and Bessie.

Benjamin served in the army. Before he was conscripted, he was engaged to Pearl, his first cousin. Her name was also Borman. They emigrated on their honeymoon (around 1890) in time to hit the St. Louis World's Fair. They traveled second class, going through Germany and Holland.
Ben had no profession so he did what most Jewish immigrants did; he learned tailoring. They moved to Belleville, Illinois where his tailor shop expanded into a men's clothing store. With a handful of other Jewish tradespeople, he established the synagogue (although he was unobservant, he had complete sets of both Talmuds and many books written in Russian, Ukrainian and Yiddish.)
Ben and Pearl saved enough money to bring Ben's mother and all the siblings (except George) to America. Ben also helped found First Belleville Park and was the first Jew on the Chamber of Commerce.
My grandfather, Harry Borman, came to St. Louis and worked as a cigarmaker at the House of Crane. He moved to Indianapolis where he worked at the House of Crane (now the frontispiece of the espresso bar of Nordrom's in downtown Indianapolis). He met and married my grandmother, Sara, and opened a dry goods store at 1367 Shelby St. (which was torn down in 1998).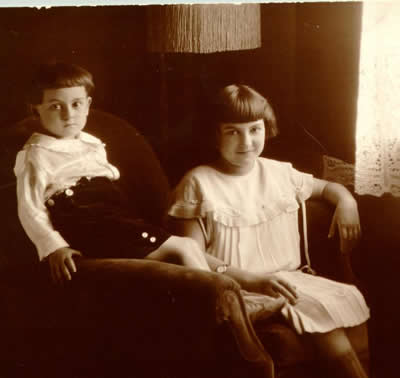 Bill & Connie Borman, Circa 1925
Harry & Sara had three children. Bill, my Father, became a dentist and lived in Indianapolis, Indiana. Connie married Mort Present and raised two daughters; and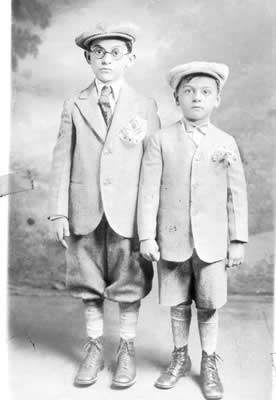 Bill & Marvin Borman, the Early Years
Marvin graduated from Harvard Law and developed a large, successful practice in Minneapolis, Minnesota.