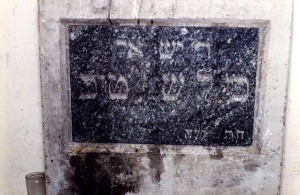 Medzyhbosh (also spelled Medzybizh) is a town in Western Ukraine known as the birth place of the Chassidic religious movement.
The first records of Jews in Medzhybosh date back to the early 16th century. These records state that various Jews were granted special privileges by the Polish kings, including a proclamation in 1566 by King Sigismund II Augustus that the Jews of Medzhybosh were exempt from paying taxes in perpetuity. The earliest known burial in the Jewish cemetery dates from 1555.
Many key rabbinic leaders lived in Medzhybosh during the 17th through 20th centuries. The earliest important rabbi to make Medzhybosh home was Rabbi Joel Sirkes (1561–1640), a key figure in Judaism at that time. He lived in Medzhybosh from 1604-12.
The most important rabbi from Medzhybosh was Rabbi Israel ben Eliezer Baal Shem Tov "Besht" (1698–1760), the founder of Hasidism. He lived in Medzhybosh from about 1742 until his death in 1760. The Baal Shem Tov is considered one of the key Jewish personalities of the 18th century who has shaped Judaism into what it is today. His work led to the founding the Hasidic movement, established by his disciples, some of whom also lived in Medzhybosh, but most of whom traveled from all over Eastern Europe, sometimes from great distances, to visit and learn from him. In Medzhybosh, the Baal Shem Tov was also known as a "doktor" and healer to both Jews and non-Jews.
Rabbi Nachman of Breslav (1772–1810), the Baal Shem Tov's great-grandson, was born in Medzhybosh and went on to become the founder of the Breslover Hasidim.
Medzhybosh contains two Jewish cemeteries. The old Jewish cemetery contains the grave of the Baal Shem Tov (pictured above left) and other famous and notable Jews. The new Jewish cemetery has graves from the early 19th century through to the 1980s. A Nazi mass killing site outside of town holds the graves of almost 3,000 Jews in 3 different trenches.