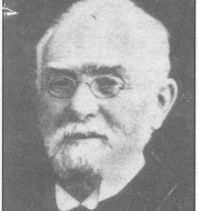 ELIESER MORDECHAI ben YITZCHAK GEROVITSCH (1844 – 1914) was born in Kitaigorod in Kiev, Ukraine. In Berditchev, he studied voice with Moses Spizberg, chief cantor of the Chor-Shul in Berditchev, and who eventually hired him as his assistant cantor.
Gerovitsch learned the works of Lewandowski, Sulzer, Naumbourg and Weintraub. He went on to serve as cantor in the cities of Nicolaiev, St. Petersburg and Rostov on the River Don. While in St. Petersberg, Gerovitsch continued his vocal studies at the conservatory; he also was befriended by Nicholai Rimsky-Korsakov.
During his tenure at Rostov, Gerovitsch continued to be a firm practitioner of traditional nusach and chazanut (the musical tradition of the synagogue) in spite of fashionable intrusions of composers such as G.F. Handel and Giuseppe Verdi.